TouchGENiE
Soladapt, together with its China partner has been specialising in the research, development and manufacturing of interactive touch products. Transform your home PC monitor or television to a fantastic touchscreen with TouchGENiE and enjoy all the freedom and benefits to interact with your work and media like never before.



Why do I need a TouchGENiE?
Full interaction with design applications
Edit images and documents like never before
Bring educational programs to life
Navigate office programs at your finger tips
Interactive gaming
Enhanced user experience
Drag and drop with ease
Experience the full functionality of Windows 8 as it was intended
What is IR touchscreen technology?
Infrared Touch Screen is a touch frame which is installed in front of the display screen.
The frame is integrated with printed circuit board which contains a line of IR-LEDs and photo transistors hidden behind the frame
Simple to install
Easy to use
2 point multi touch function
What size screen do I need?
Measure your monitor diagonally from the bottom left corner to the top right corner (not including the frame).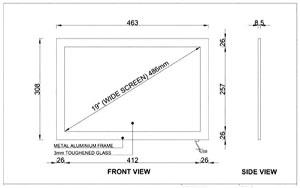 How do I install TouchGENiE?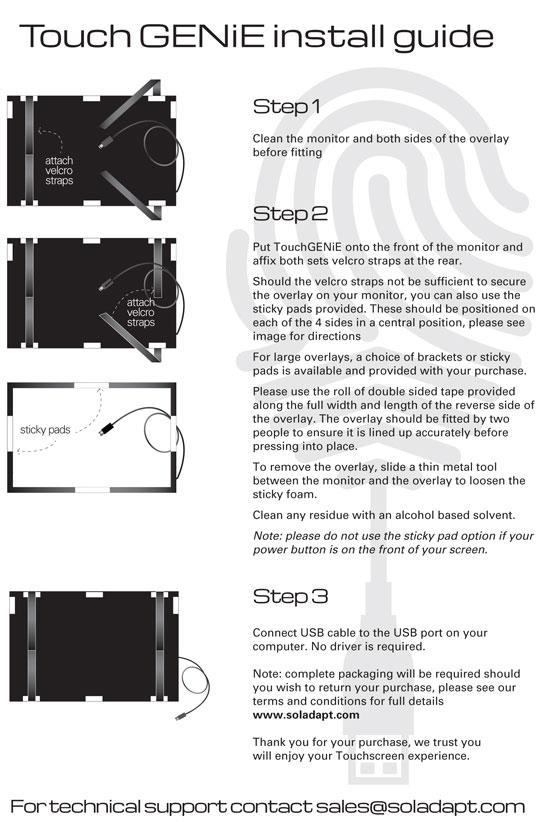 Technical details
Size
General Size 15 inch to 159 inch
Fit in with Panel display device 
Performance
Touch Mode Single-point touch, Multi-touch, drag, draw-line, rotate, zoom in/out
Resolution(Interpolation) 4096*4096
Linearity Error <1.5mm
Response Speed <15ms
Mechanical
Input Method Finger or gloved hand (rubber ,cloth or leather)
Touch Times Unlimited
Touch Activation Force No minimum touch activation force is required
Minimum Touch Object 2.5 mm X 2.5 mm
Vandal-proof No break by 1-pound steel ball dropping from 130 cm high
Surface Durability Surface durability is that of glass, Mohs\' hardness rating of 7
Optical
Glass: Without glass, 4mm glare, AG (anti-glare), or AR (anti-reflective) glass optional
Light Transmission 92%
Gloss Antiglare surface (curved or flat): 95  ±  15 gloss units or 65  ±  15 gloss units 
Environmental
Temperature Operating Range: -20°C ~ 70°C;  
Storage Range: -40°C ~ 85°C 
Relative Humidity Operating Range: 0%~90% RH (no dew falls)
Storage Range: 0% to 95% RH (no dew falls)
Altitude Up to 3,000m 
Ambient Light
Direct sunlight 90°to ±30° to the display surface Touch detection operational
Direct sunlight all angles to display surface Free of false touch reports
Electrical
Operation Voltage Typical +DC 5V, +4.75V to +5.25V
Power Supply
Size under 52"(include 52")USB or PS/2 Interface, power ripple max.200mV rms
Size above 52"(52" not included): external AC-DC power adaptor
Interface Full Duplex USB 2.0 (Full Speed) Plug and play compatible 
Serial RS-232. Baud Rate: 9600, 8 Data Bits, 1 Stop Bit, No Parity 
Current Typical 150MA@+5VDC; 350mA, maximum
Power <1.5W, operating current<300mA
Electrostatic Protection 15 kV air / 8 kV contact discharges (EN61000-4-2,1995 :Level 4)
Controller Integration inside touch panel
Agency Approvals CE, FCC, Rohs