FAQ

Q. What versions of Windows are compatible?

A. Windows 7, Windows 8 and Windows 8.1 are 100% compatible. Windows XP SP3 is also supported on a limited basis


Q. What versions of Android are compatible?

A. Android versions 4.0 and above are compatible, but if you are unsure please email support@soladapt.com and we will be happy to advise you.


Q. How do I install my new TouchGENiE Overlay? There was no driver disk supplied

A. The TouchGENiE overlay is 100% plug 'n play, no extra drivers are required. Simply attach the device to your monitor and plug it into the USB Port of your computer. The TouchGENiE will be detected and windows drivers will be automatically installed.


Q. How do I calibrate my TouchGENiE overlay?

A. As long as you have purchased the correct size overlay to match your monitor or TV there is no need for calibration as it will already be very responsive and accurate to your touch. In rare circumstances you may have a requirement to calibrate your Touchscreen and to help you with this please see the Windows Calibration section below.


Q. I have windows XP SP3 or Windows 7 and the drivers have not installed automatically, what do I do?

A. If you have a computer that has not been updated for a long time then it's possible in rare circumstances when the TouchGENiE is plugged in it will ask for the location of a driver. To install the driver simply allow the computer to search the internet for the driver and it will download the latest Windows driver. Alternatively use Windows update to ensure your computer is up to date before you attach the TouchGENiE and the driver will install automatically.


Q. I have recently upgraded to Windows 8.1 and have since plugged in my TouchGENiE but now the gestures and on screen keyboard are not working.

A. In very rare cases when upgrading from Windows 8.0 to Windows 8.1 if you don't have the TouchGENiE plugged in then when your upgrade is complete the Touch Keyboard and Handwriting Panel Service may be disabled. This service needs to be started in order for any touch device to work correctly. To start the service press your windows key or switch to the metro interface and type in the word 'services' with 'settings' selected and select 'view local services'. This will bring up a list for all the services that can run on your computer, simply select the Touch Keyboard and Handwriting Panel Service , set the startup type to automatic and start the service. It will then start every time the computer starts.


Q. How do I install my TouchGENiE overlay.

A. It is really easy. Use the following link to download detailed instructions for installing your TouchGENiE overlay.


Q. I wish to use multiple TouchGENiE overlays with multiple monitors connected to my computer, is there a way to do this?

A. Yes, you can use up to 3 TouchGENiE overlays with 1 computer provided you have enough video cards to support this option. In order for them to work properly DO NOT plug all the overlays in at once, instead follow this procedure. With the computer turned off plug in 1 overlay only and boot up the computer, when the overlay is detected and is working correctly then plug in the 2nd overlay and again wait until it is fully working. Finally plug in the 3rd overlay and once installed all 3 will be working in tandem. You will only need to perform this routine once. If you are having difficulty assigning a touchscreen overlay to a specific screen then you can use the windows calibration tool to identify and assign them. Please see the Windows Calibration section.

Q. What is WEEE and are you compliant?

A. We certainly are. WEEE is waste electrical and electronic equipment. It is end-of-life electrical and electronic equipment and covers virtually everything with a plug or battery. It is classed as either household or non-household WEEE.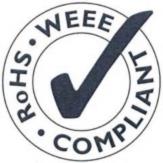 The EC introduced the WEEE Directive in 2005 to address the environmental impacts of unwanted electrical and electronic equipment at end-of-life disposal.

It is a 'producer responsibility' directive which means that producers are required to take financial responsibility for the environmental impact of the products that they place on the market, specifically when those products become waste.

All affected producers and distributors of WEEE must comply. The objective of the directive is to promote recycling, minimise waste and stimulate the development of more environmentally friendly products for the future. In the UK, it has been transposed into national law by Statutory Instrument 3289: The Waste Electrical and Electronic Equipment Regulations 2006, as amended. It became law on 2nd January 2007.

The Department of Business Innovation and Skills (BIS) is the lead government department responsible for the WEEE Regulations in the UK and works in partnership with the devolved administrations. The Environment Agencies are the enforcement agencies in relation to producer responsibilities; the VCA on behalf of BIS for distributor (retailer) obligations. The Department of Environment Food and Rural Affairs (DEFRA) is responsible for the permitting of authorised treatment facilities.


Windows Calibration
In normal circumstances you will never need to calibrate your TouchGENiE overlay, however if you do find that you require to do this or if you are having issues then Windows 7 and Windows 8 both have built in calibration tools which will be visible to you only when there is a touchscreen device plugged in. To access these settings please see below:


Windows 8 and Windows 8.1
Swipe in from the right edge of the screen, then tap

Search

.
(If you're using a mouse, point to the bottom-right corner of the screen, move the mouse pointer up, then click

Search

.)
Enter

Calibrate

in the search box, then tap or click

Calibrate the screen for pen or touch input

to open Tablet PC Settings.
Check that the monitor shown in the Display field matches the screen that you want to calibrate.
Tap or click

Calibrate

, then follow the on-screen instructions.


Windows 7
Use the following steps to calibrate your touch screen in Windows 7:

Click Start and then Control Panel, and next Hardware and Sound.
Under Tablet PC Settings, tap Calibrate the screen for pen or touch input.
On the Display tab, under Display options, tap Calibrate and then Yes to allow the program to make changes.
Follow the on-screen instructions to calibrate your touch screen.
MORE INFORMATION
The Tablet PC Settings are only available when your touch screen is properly detected. If the option is not visible, ensure that the USB cable is connected to your PC in case of an external touch screen display.
If calibration does not resolve your problem, tap Reset Calibration data under Display options on the Display tab. This will remove all previous calibration data and reset your monitor display back to default settings.
CONTACT US
Email: support@touchgenie.com to speak to one of our advisors.